Well it's January 5th, the 12th night of Christmas.
Most years I celebrate the season from the Winter Solstice straight through to the 12th night. Of course this year was different, no parties, dinners or gatherings. One thing that wasn't different was the steady stream of orders from my websites, custom work and online shows. I'm grateful for the opportunity to exhibit my work online, from my home and to complete a number of different custom pieces, from my niece Katie's wedding rings early in December to a set of anniversary keychains that will be presented later this week.
A highlight for me were the pieces that finally arrived at their recipients today, who are parked at a goat farm in Arizona, just in time for the last day of Christmas.
See, my kid and their best friend, Coriander who is really more like a sister, have been off traveling the country in Gerti, their RV, for the last six months. It's an interesting story, but it's their story, not mine, so if you want to learn more about their grand adventure follow their Facebook group, the Cryptid Camper Crew .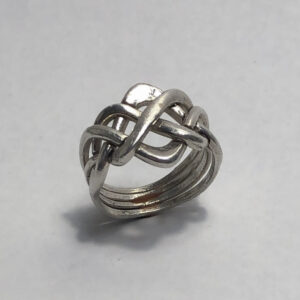 For Gwen's gift, I got to a long imagined redesign of my puzzle ring and since the kid has been wanting my hand wrought version for a number of years now, I sent the first version of the new design to them. Now me and the kid are wearing matching rings.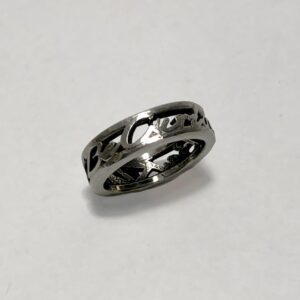 Coriander told me about an idea for a ring last summer. It's been on my mind for a while and I managed to squeeze it in with all the other work this holiday season. Her ring says, Be Curious Be Kind. Coriander wrote a post about its meaning on her Patreon page. Which I highly encourage you to join if you love to look at beautiful art adventures. Both of these rings will be available for sale.
Happy 12th Night!