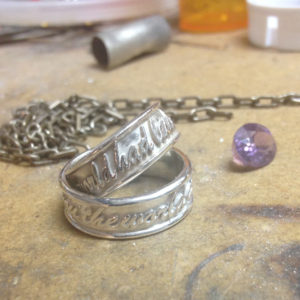 The care of your jewelry is something that every jewelry owner should keep in mind. At Fair Winds Jewelry, we distribute a small note with your purchase to remind you about how to store and care for your new piece of jewelry art.
Because most of Fair Winds Jewelry is hand made from fine silver, sterling silver or hand dyed 3D printed materials that sometimes include sterling silver details, it is packaged in a resealable plastic bag. When you aren't wearing your jewelry it should reside in this bag.
The reason for this is because tarnish is a result of the silver reacting with the oxygen in the atmosphere. Although some portions of our sterling silver designs are intentionally oxidized to appear dark, you want to keep your silver bright.
Whenever any of your jewelry needs to be cleaned we are happy to perform that service free of charge. Having your jewelry professionally cleaned is always a good idea as a professional jeweler is qualified to check the integrity of stone settings and check for stress cracks, as well as cleaning and polishing your pieces to look like new.
So why should you care for your jewelry? Because it is a personal expression of who you are.