Humans have expressed themselves through personal ornament for as long as we have existed. The way we dress, wear our hair and mark our bodies are all ways for us to communicate, in subtle or not-so-subtle ways.
Jewelry may be the oldest form of  art and personal ornament with the very earliest artifacts going back to the dawn of humanity. Ancient jewelry of beads and bone held meaning that we can only guess. But the tradition of assigning meaning to the jewelry we wear has continued.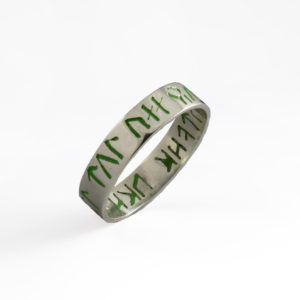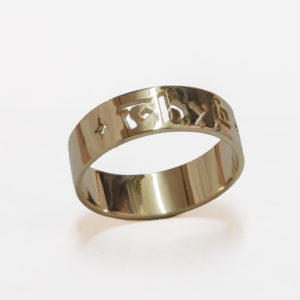 The poesy ring was popular in Medieval times and was engraved with words or phrases that held meaning to the wearers as a token of love and esteem. I became interested in the idea of words and rings about the same time I became interested in jewelry making as a career.
It was around 2002 when I had the idea of designing a ring with pierced words that I wore daily. A number of friends and colleagues liked it so much that my own ring generated several commissions except with their own personal text. As of this writing, I have created dozens of these rings and each one was made to order based on the individual.
A recent request for a line of song lyrics had me stumped, so I found a way to update the design to create more space for letters. This update includes letters that stand out from the surface of the ring instead of being pierced through by hand with a jewelers saw as in the original design. Oxidizing the background to contrast the letters creates a striking easy to read effect.
These rings are a continuation of our human tradition of jewelry as personal expression. My customers' stories are heartwarming and sometimes heartbreaking. I've created text and symbols that commemorate twins and siblings, fraternal groups and motherhood. Customers sometimes ask for phrases that celebrate a milestone, divine belief or a work ethic. And of course, most popular are rings that express love – funny love, geek love and sometimes just the simple name of the one's beloved.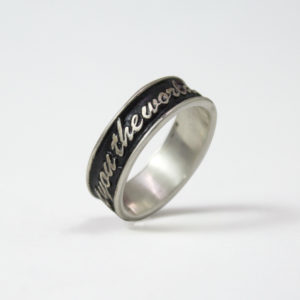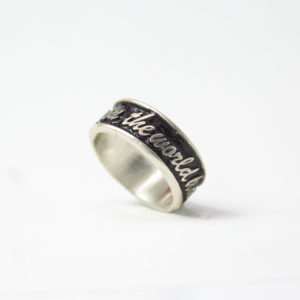 Some say the idea of a ring is that its circle symbolizes eternity. My favorite approach is the one I wear, I call it Loves Each Other. Two names encircle the ring in a neverending phrase of mine and my husband's names – "Barb loves David loves Barb loves David…." Turning the ring around and reading the text one never comes to the end.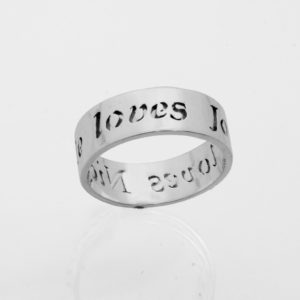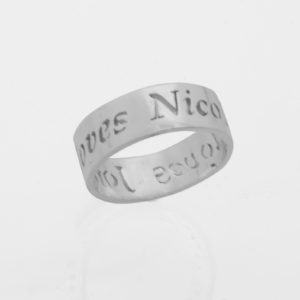 Would you like to wear your heart on your finger? Contact me to discuss your own vision of personal ornament or take a look at the current listings for my modern version of a poesy ring.