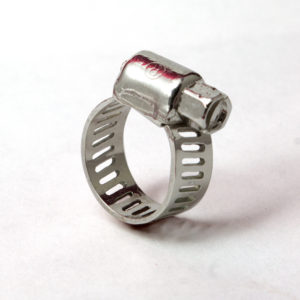 During the late 1990s I lived on a sailboat docked on Toms River in Pine Beach, NJ.  It was a beautiful place to live, but I was feeling a little isolated from friends and family. I was able to connect online with a group of women that eventually formed the core of an intentional family for me. We met in diners, each other's homes and sometimes on the beach to celebrate the seasons. It was a magical time that lasted almost three years. As time passed we scattered, but all of these women still hold a special place in my heart.
Sophia probably wandered the most, moving to the UK for several years and then returning to the US to settle in Maryland. Sometime last Fall she returned to her native Ohio to be with family and start anew. I was delighted to hear from her in November.
She had reconnected with her high school sweetheart. In their teens, he had placed a hose clamp on her finger as a ring after helping with a recalcitrant car issue. Still mechanically inclined, in committing to her now all these later, a hose clamp was once again placed on their finger. He said to Sophia afterwards. "It's a shame we don't know anyone who could make us a hose clamp in silver for you." "Ah, but I do." was her response.
Of course she contacted me. After a phone conversation with both of them, I was delighted to reproduce a hose clamp in silver. I love challenges and interesting stories and I feel privileged to be able to make unique things that many think may not even be possible.
Hand fabricated using lost wax casting and hand sawn sheet for the shank, I had fun creating something special and boldly odd, just like Sophia. I sent the ring earlier this year to the delight of everyone. Sadly, the story doesn't end there.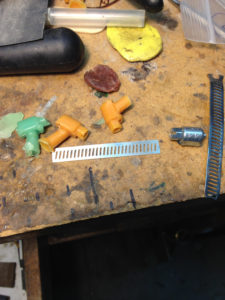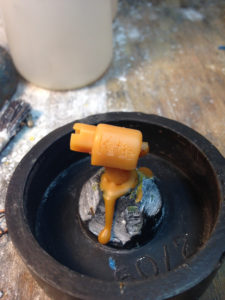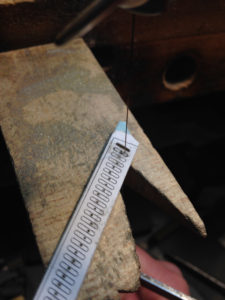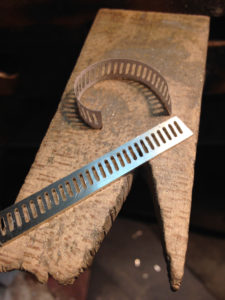 It's been almost two months now since I found out that Sophia passed suddenly overnight in her sleep. My joy at recently reconnecting with a dear sister has become an aching hole in my heart. Ache for the loss of her new beginning, the promise of her young son maturing and thriving more everyday, her quick-witted humor, inability to suffer fools and superior use of language.
I miss you, Sophia, but I wouldn't trade our connection for anything.